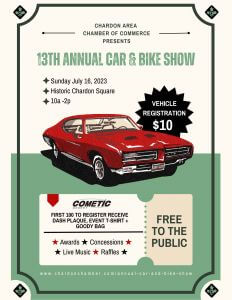 13th Annual Car + Bike Show | Sunday, July 16, 2023!
*please note, rain or shine - no rain date
The Chardon Area Chamber of Commerce is excited to host its 13th Annual Car & Bike show on Sunday, July 16th!  Held on the Historic Chardon Square, we invite all makes/models of bikes, cars and trucks to this fun, family-friendly event.
We have already hit our first 100 registrants but registration can still be done online or at the event on the day of beginning at 8a for just $10 per vehicle.
The 10a - 2p event is FREE to the public.  Come enjoy live music by SaintsMusic , raffle baskets, 50/50, awards, food and much more!
Day of Event | Vehicle Owner Parking Info
We are just a few days away from our 13th annual Chardon Area Chamber of Commerce Car + Bike Show, sponsored by Cometic Gasket!  We would like to take the time to provide you with parking/registration information to help make for a smooth morning:
You may arrive and check in as early as 8:00 am. Please see the posted map for directions to the event.  We will have Main Street closed from 8am – 2pm, so please turn onto Washington Street from either Center Street (Rt. 44) or Water Street (Rt. 6), you will then go up Court Street.  At the top of Court Street you will be directed to your parking spot.
If you would like to park next to someone, please arrange to meet them off-site and drive in line behind each other. Otherwise requests to park together cannot be accommodated.  We cannot save spots this year and we appreciate your understanding.
Please do NOT park in coned off areas unless being directed to do so.  We are going to do head in first parking on Park Street to keep pedestrians off of that road.  We do not have permission from the City PD or FD to block off any lanes on E. Park Street this year as we need to allow for emergency vehicles to get through the Square.
Once parked, please head over to the Registration Table, sponsored by D&S Automotive, which is located near the Heritage House (brown building – also marked by the red star on the map).  There you will receive your dash sign, voting ballot and goody bag.
Please note that Voting Ballots should be turned into the registration table no later than 12:30 pm.
After you are parked, please enjoy coffee and donuts at the Heritage House, compliments of Alvord Agency LLC., our Breakfast sponsor.
During the day, be sure to come back up to the Heritage House for Concessions, sponsored by Junction Family Auto.  We will have for sale, hot dogs, hamburgers, chips and much more. And please feel free to purchase tickets for our Chance Auction and 50/50 raffle. You need not be present to win.  We will also have Silent Auction items inside the Heritage House!
If the show is canceled, this information will be listed on the Chamber's website, Facebook page at https://www.facebook.com/ChardonAreaChamberOfCommerce/ and we will send out another email.  We will not have a rain date this year due to scheduling complications with getting vendors and sponsors together for a second date.  Rain (no thunder) or shine, we will be out and about.
We greatly thank you for your interest and support of this fun event.  We look forward to ogling your vehicles and hope you enjoy the show!
2023 SPONSORS!
Look at all of our tremendous sponsors who make this event possible!
THANK YOU!
2023 Raffle Basket Sponsors!
Advanced Auto Parts, American Cancer Discovery Shop, Beverly Johnson of Howard Hanna, Geauga F.O.E., Chardon Auto Spa, Cleveland Cavs, Cleveland Monsters, Consumer Tire, Fisher Auto, Friends of Geauga LOSS Team, Memories & Moments Travel, Title Professionals Group, University Hospitals Geauga Branch
THANK YOU!
Questions?
Contact us to Learn More.