The Chamber is offering two scholarships to support students pursuing a post secondary education, either with a 2/4 year college or in a specified trade.
Amount: $1,000 as a one-time payment
Deadline: TBA for 2023
The winner will be recognized publicly at the Annual Awards and Banquet in 2023.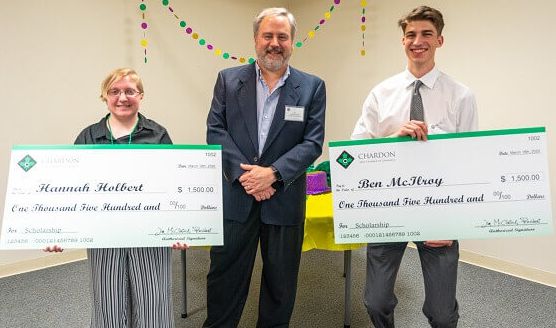 Who Can Apply:
Any high school graduating senior who is a resident of the Chardon Local School District and who has applied to an accredited vocational, two/four year degree-granting institute of post-secondary education or a vocational-technical school.
Scholarship Eligibility Criteria:
Applicant has participated in at least two extra-curricular or community service activites while enrolled as a student
Applicant must demonstrate character, leadership ability, and service to the community
Minimum GPA: 3.00
Applicant must be a resident of the Chardon Local School District
To be eligible, applicant must provide two recommendations, one being from a non-faculty member.
How to Submit Application:
The deadline to apply will soon be announced for 2023. Completed applications can be emailed to the Chamber at mricco@chardonchamber.com, mailed to  P.O. Box 294, Chardon, Ohio 44024, or hand delivered to the Chamber Office at 213 Main St, Suite D. Any applications after the deadline will not be considered.
Questions?
Contact us to Learn More!